JUST RELEASED!! GET IT HERE FIRST!!
Stained glass window of my soul
Lisa Marie Nicole
NEW SINGLE!! YOU ARE THE LOVE. 2023
You Are The Love
Lisa Marie Nicole
NEW ALBUM 2023
Beyond Blessed
LISA MARIE NICOLE
This is a collaboration of all of my singles from the end of 2022 and all my new songs from 2023 you can order a physical cd or download the whole thing digital. to order a physical cd, please indicate if you would like one at checkout. thank you. God bless
Read more…
0:00/4:07

0:00/3:52

0:00/3:00

0:00/3:53

0:00/3:56

0:00/3:11

0:00/4:33

0:00/3:54

0:00/3:08
THE REAL MEANING OF CHRISTMAS..... WINNER 2022 XMA CHRISTMAS SONG OF THE YEAR AND 2023 RAMPAGE MUSIC AWARDS WINNER
The Real Meaning of Christmas
Lisa Marie Nicole
New Single 2023 . Pass it on. Now Available
Pass It On
Lisa Marie Nicole
Pass on the love of Christ and we can change the world
Read more…
 Pray and say Amen,  2023. Download here. Available on every streaming site. 
Pray and Say Amen
Lisa Marie Nicole
Pray in every circumstance in your life. God hears all prayers
Read more…
MULTI AWARD WINNING NUMBER ONE SONG. 2022/2023
Just Believe
Lisa Marie Nicole
When you are not sure about where to go in life, Just Believe in the risen Lord and he will guide your way
Read more…
thank you for visiting my page, i hope you are blessed by my music and share it with the world, to help me in my mission to spread the word of God to everyone, God bless 
 THANK YOU. GOD BLESS
RUN TO THE SON
Lisa Marie Nicole
New country single, Run to the Son. Get it here first download mp3 for 1.00
Read more…
WHAT WOULD JESUS DO CHRISTIAN ROCK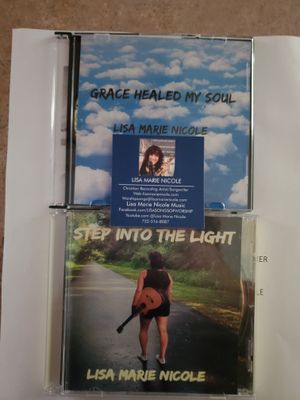 MY MUSIC. SINGLES AND ALBUMS
2023 awards and nominations
2023 ISSA finalist. Female vocalist and rising star
2023 Poze records winner Christian song Pass it on
2023 Christian finalist song indie songwriter awards. Pass it on
2023 winner Rampage music awards best Christian song. JUST BELIEVE
More Nominations and Awards.